Untitled (P-016), 2022
                                           Mischtechnik auf Papier I Mixed media on paper
                                           44 x 37 cm I 17 1/3 x 14 1/2 in.

Ausstellungsansicht I Exhibition view

Ausstellungsansicht I Exhibition view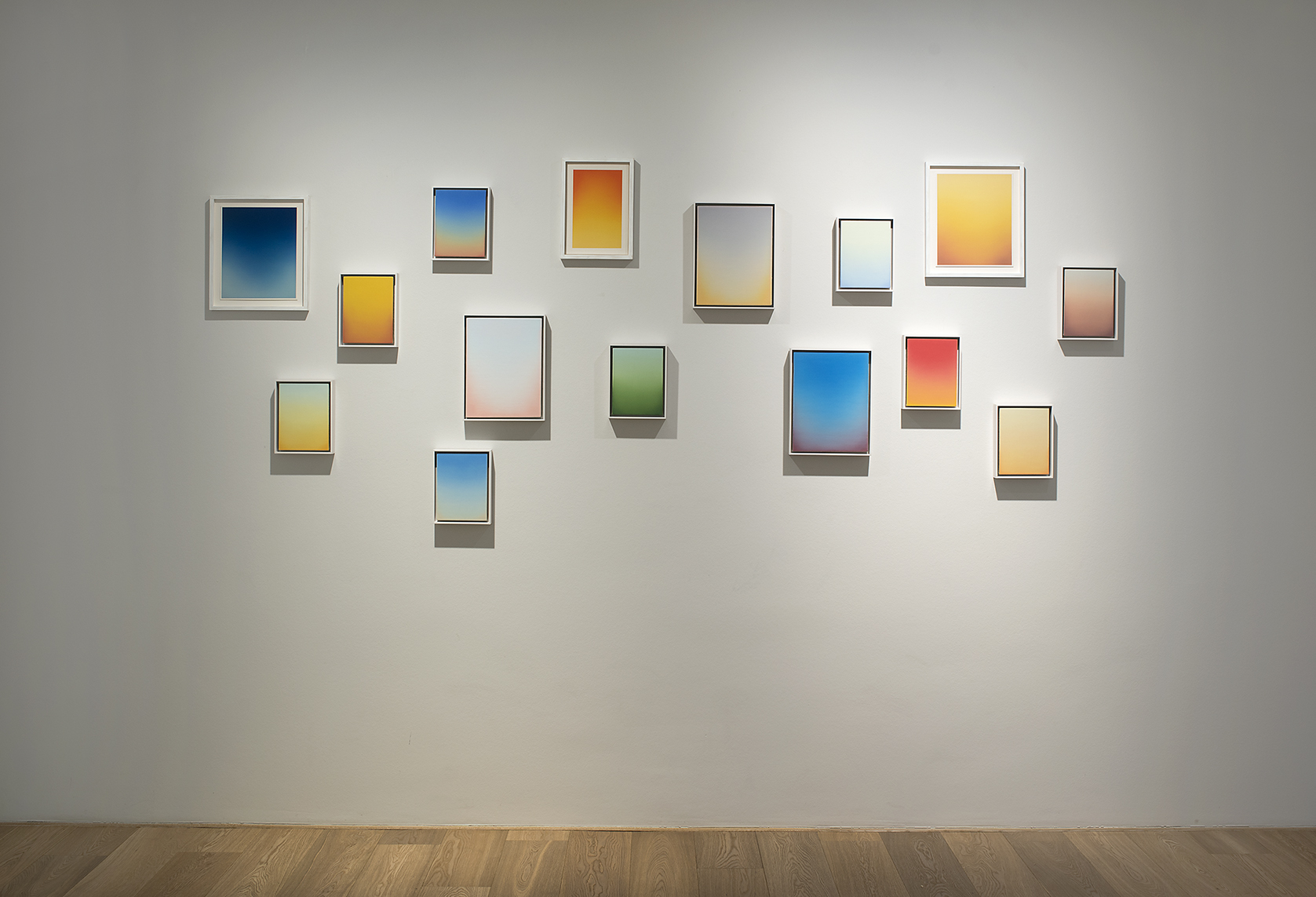 Ausstellungsansicht I Exhibition view

Ausstellungsansicht I Exhibition view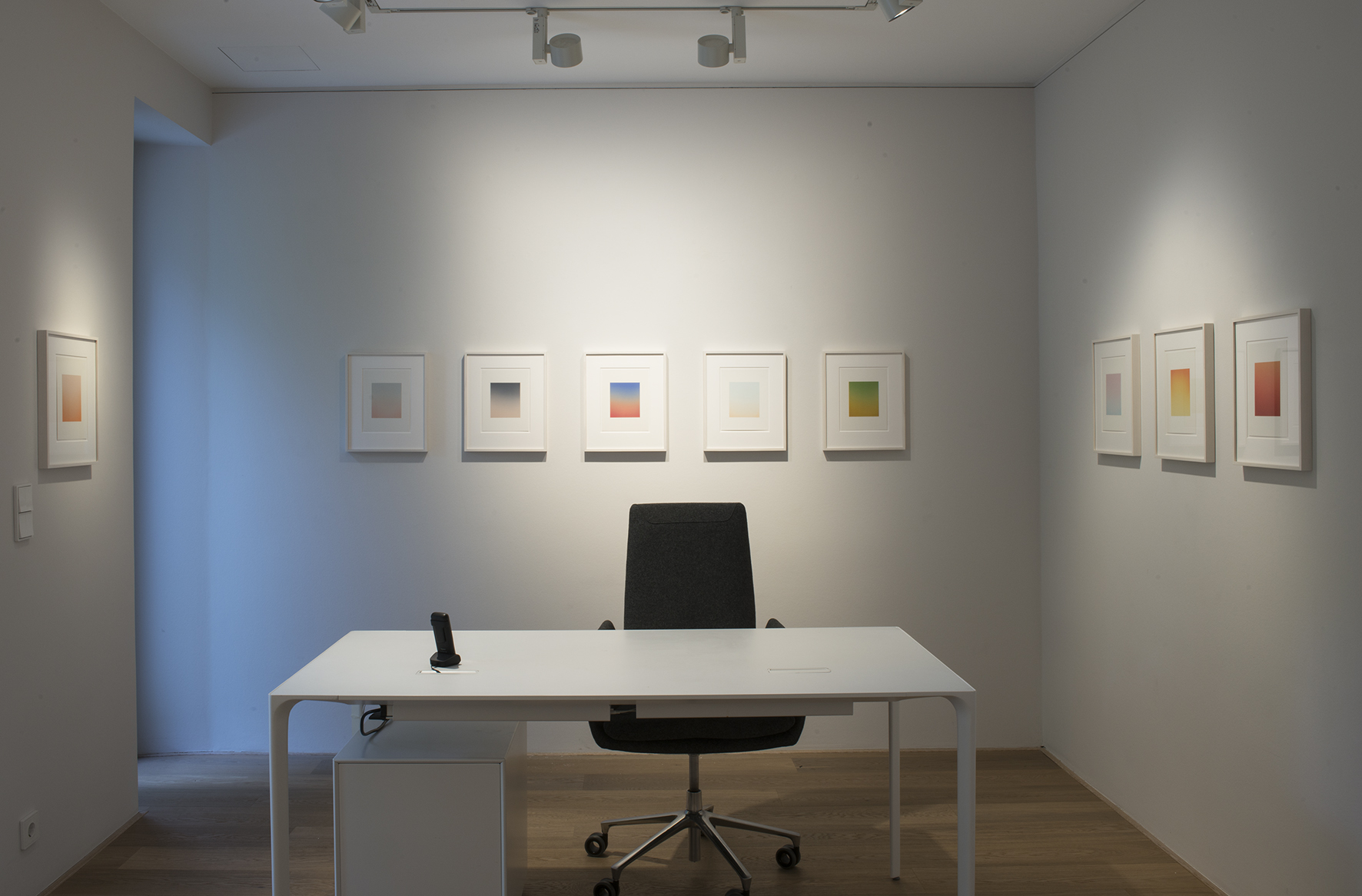 Ausstellungsansicht I Exhibition view
Eric Cruikshank – Point of Departure
22.06. – 13.08.2022
Wir freuen uns mit Point of Departure, Eric Cruikshanks zweite Einzelausstellung bei Schacky Art & Advisory zu zeigen. Cruikshank präsentiert neue Gemälde aus seinem Zyklus der Sky Paintings, indem er mit neuen Formaten und Bildträgern experimentiert und die Werkgruppe erweitert.
Er sagt dazu:
I moved from Edinburgh to Dundee towards the end of 2020 and it was quite interesting moving to a new studio and having a lot more space. So it's allowed me to work on a larger scale. Whereas before, the studio I had was very, very small, but I absolutely loved it.
For the works in the upcoming exhibition I have a new series of paintings on both cotton canvas and linen. These are stretched over wooden panels. With these pieces the priming is hugely important – always applied in multiple layers – with each layer sanded to a glass like smooth finish. It's about finding a balance where the layers of primer remove the texture of the canvas but still maintain a level of absorbency for the colour to sink ever so slightly. I want a very particular finish where the oil doesn't reflect the light, I want the oil to almost absorb the light, so when you're looking at the gradients, the different colours form a visual pulse. That pulse gives the work a kind of life if you like.
I adopted that into the Sky Paintings where I build up subtly contrasting colours. Because of the thinness of the oil, even with the uniform finish of the various hues, there are trace elements – flickers – where the eye catches glimpses of those initial layers. When I feel that it gets to the point where the vibration I mentioned – the pulse – is gently coming through the plane, the painting is ready for the final layers, where I work the gradients of colour.
Weiterhin gibt Cruikshank erste Einblicke in eine neue Werkgruppe von Mischtechniken, die in einem technisch aufwendigen und zeitintensiven Prozess über Wochen und Monaten entstehen und durch ihre Transluzenz bestechen.
Zur Ausstellung erscheint ein Katalog, sowie eine Vorzugsausgabe von 15 Exemplaren, die jeweils eine Originalarbeit auf Papier enthält. Die Vorzugsausgabe ist für 975€ (inkl. Mwst) bei uns erhältlich.
Ausgewählte Werke der Ausstellung